Canoas: recreating the modernist masterpiece
An exploration of a house in harmony with its surroundings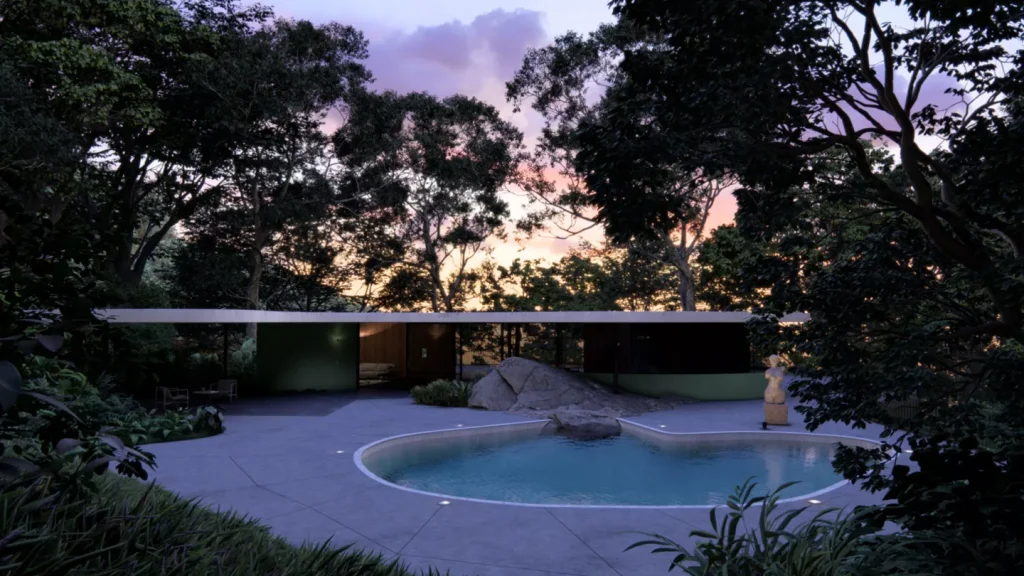 Oscar Niemeyer, Casa das Canoas, 1951 © Pictoright Amsterdam 2022
Getting to know Casa das Canoas
Some architectural designs deserve to be revisited time and time again. To be explored from new angles and experienced in different ways. The iconic home of the late Brazilian architect, Oscar Niemeyer, is no exception.
Nestled in the Tijuca Forest near Rio de Janeiro, Casa das Canoas is a masterpiece of modern architecture. Known for its organic shapes and minimalist design, the house's transparent glass walls, sinuous concrete roof, and decorative granite boulder exist in perfect harmony with each other and the surrounding environment.
The house was famously designed to adapt to the irregularities of the land, rather than the other way around, with Niemeyer showing a preference for curved lines and freeform structures. But it wasn't just this distinctive design that inspired Adam Ingram (The Lumion Collective) to bring Casa das Canoas to life in Lumion. It was the way in which the house belongs entirely to its environment – the building itself secondary to its primary occupant, nature. These two elements in synchronicity are the constant, and the people who have lived there over time are merely visitors passing through.
The challenge to capture this unity between nature and architecture led to the creation of an original animated featurette in Lumion 2023. With its extensive range of high-quality plant models that can be quickly positioned at an expansive range, Lumion was perfectly placed to take on the project.
Experience the immersive exploration of Casa das Canoas for yourself in this cinematic animation, before delving deeper into the creative process that went into it. Welcome to Canoas.